SINGAPORE MALAYSIA DIY TRAVEL GUIDE – These Southeast Asian nations are two of the most visited countries of the world and for good reasons even the lack of natural resources particularly in Singapore. Its renowned picture perfect skyscraper architecture and tall buildings, fun and exciting theme parks are very popular to foreign tourist. As well as their luxurious five-star hotels, tons of shopping mall selection, boutiques and souvenir stalls, mouthwatering local cuisines and probably mainly traveling to Malaysia or Singapore is much easier these days because of its visa-free to all ASEAN nations.
     Lucky for us last June finally after only a month of planning our first international travel with my girlfriend, we were able to explore the country, see their iconic landmarks and multicultural residents, experience some of their local culture and the most exciting yet scary part is the border crossing. So this post might be long overdue, still here is our Singapore Malaysia DIY travel guide to help you prepare before you travel here.
Traveling To Singapore: Getting Started and Preparations
     You see if you're traveling to a foreign country, you better be prepared with everything and anything. This might sound too much for you to panic especially if it's your first time like us. But bringing your passport of-course, booking your hotel in advance as well as your city activities (BOOK DISCOUNTED SINGAPORE ACTIVITIES TICKETS HERE) and then printing them together with your itinerary and flight ticket. Carry your company id, certificate of employment and possibly other valid ids and other travel documents, credit card or bank balance certificate and enough cash (whether in peso or other currency) for your entire trip (Like $70-$120 per day) could really help you pass through Immigration easier. Most importantly when you're at Immigration area just be confident, polite and answer their question directly to prove them that you're entering the country just for tour and leisure. (Also dress up decently as we've read from social media that some travelers were sent back to their country and their look could be one of few reasons.)
Note: Passports should not expire within 6 months. Go check more Singapore Immigration Website, for more visa information and entry requirements.
Best Time To Visit and How Many Nights Needed To Enjoy Singapore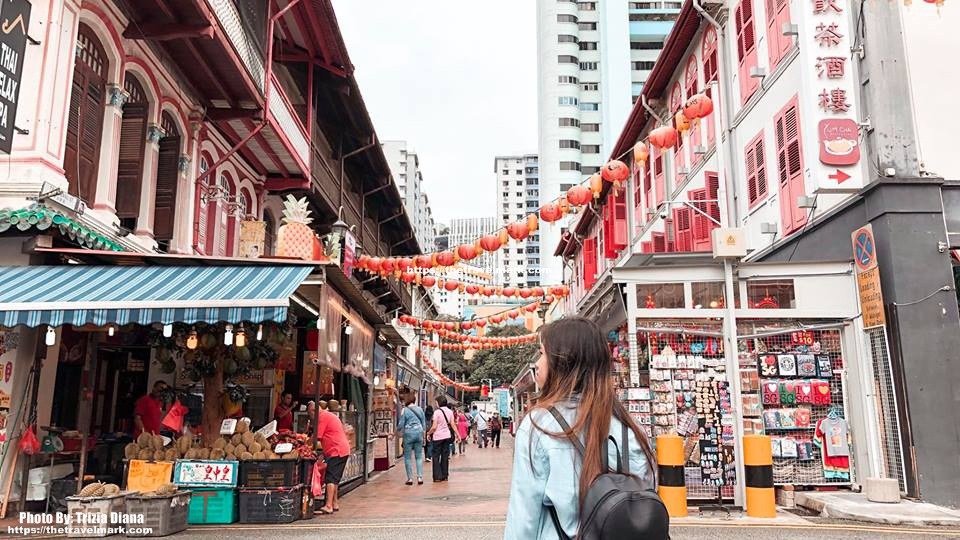 Singapore I would say a family-friendly year-round travel destination, which means any month would be good to visit. However, be aware of the country's weather which is hot and dry months usually in May-July and in November-January has more frequent rain. Also the peak seasons, usually the months of January-February, June-July, and September. Indeed it's really best to book your accommodation in advance. Lastly, 3-5 days in the city is enough to see Singapore's top travel destination.
Where To Stay in Singapore
Spacepod@lavender -111J King George's Avenue, Kallang, Singapore, Singapore, 208559
Regent Singapore – A Four Seasons Hotel –  1 Cuscaden Rd, Singapore 249715
    If you've read our previous post, you'll know that we only stayed in a backpackers hostel. Not only that we're on a tight budget but also Singapore accommodation as we've already known is really expensive compared to other South-East Asian nations. Popular budget places to stay are in Lavender, Kallang, Clark Quay, Bugis, Chinatown, and Little India. See link below for our suggestions.
Travel tip: For convenience and to maximize your time in the country, when you book your hotel online ask for them in advance if you can early check-in and if they have a charge for this.
Must Read: SINGAPORE ACCOMMODATION: Cheapest Backpackers Inn, Hostels, Inns, Lodges, Capsules and more
Changi Singapore Arrival: Embarkation Card, WiFi,  Money Exchange, MRT and etc.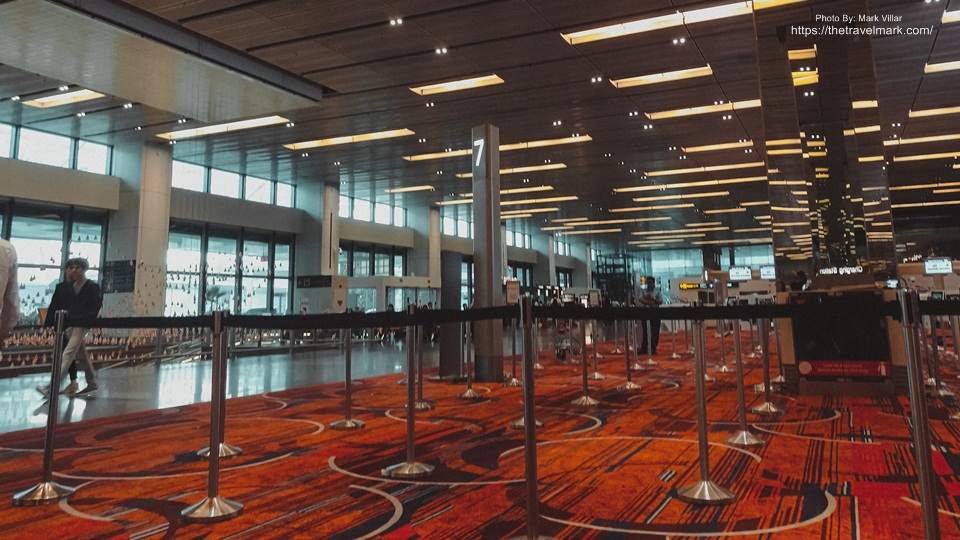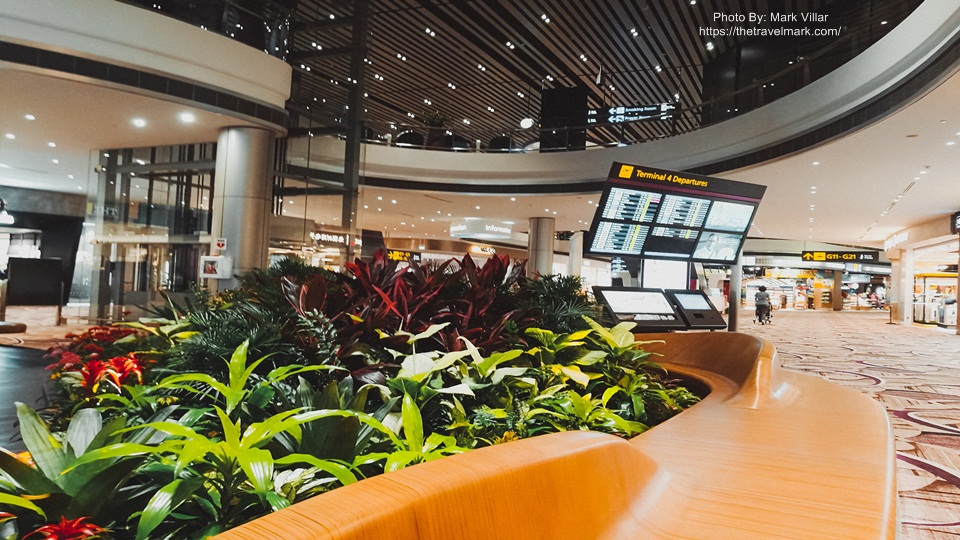 A few minutes before landing to Changi, the airline staffs gave us a piece of paper they called the Embarkation card. This arrival card will be needed to fill-up by foreign travelers who enter the country with their personal and trip information such as their flight, accommodation details and more. If your airline does not provide one or you've lost it somewhere, these are just available in the airport before the Immigration area. As of October 4, electronic arrival cards for visitors have been used as posted on the Singapore Government website.
     Changi has free Wi-Fi you can use just ask airport staff to locate you the machine where your passport will be scanned and password will be shown. I suggest you download the Changi App to help you get around the airport: restaurants, souvenir shops and boutiques, MRT location (Terminal 2) and terminal transfers as well money changers and ATM machines and more.
Note: Exchanges rates at the airport are the lowest so best to exchange only a few bucks you needed for transportation to hotel and food. Better rates money changers are in the city itself and almost all currencies are accepted so you don't have to worry that much about this.

Stay connected in the city by RENTING A POCKET WIFI for your group (connects up to 8 devices) or purchase a SINGAPORE 4G TOURIST SIM CARD and get 100 GB data for free. Just claim it upon arrival at Changi Aiport.
Transport in Singapore: Getting Around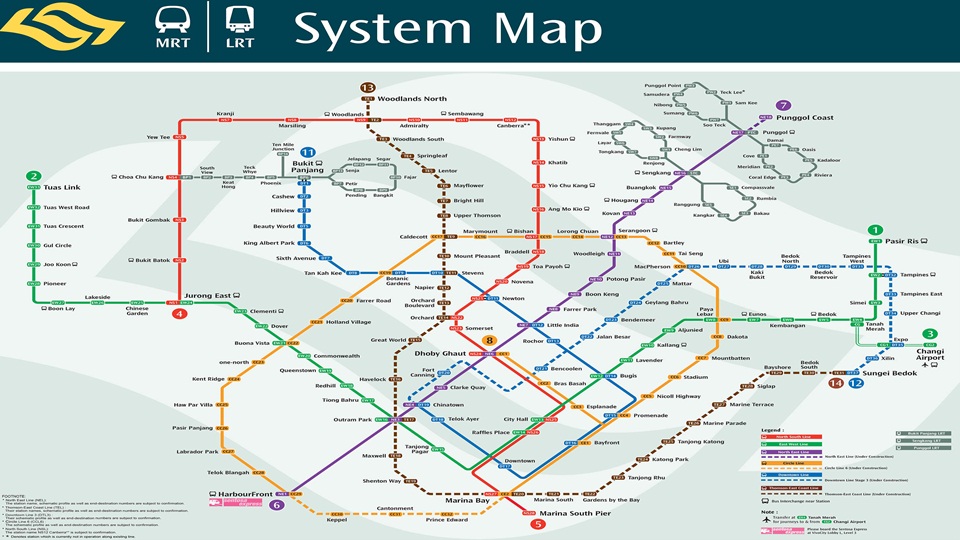 BY BUS/MRT
  Singapore's Bus system and their renowned MRT (Mass Rapid transit) system is the cheapest and probably the fastest way to get you to the main attractions of the country. Though you can buy single ticket trips, the most economical and hassle-free way for your Singapore exploration is to purchase the Singapore Tourist Pass (STP) – which allows you to unlimited travel to MRT and basic bus for one day ($10), two days ($16) or three days ($20) plus there's a refund when you return the card on your the last day in Singapore.
  As per Visit Singapore website, you can bough the card at these following MRT stations – Changi Airport MRT Station (Terminal 2 and 3) near the Transitlink Ticket Office, Orchard, City Hall, Raffles Place, Bayfront, Tanjong Pagar, Harbourfront, Chinatown, Farrer Park, Bugis, Lavender, Jurong East, Kranji, Woodlands, Ang Mo Kio―or at the Concession Card Replacement Office at Somerset station.
BY TAXI
    If you don't want to walk that much or you're location is not accessible by bus or MRT and you don't have a problem with your budget, taxis and private car (through Grab) are also very comfortable and relaxed. Cabs here are metered and heard surcharging depending on what company taxi your board.
BOOK SINGAPORE CITY BUS TOUR VIA KLOOK: Singapore Big Bus Hop-on Hop-off Tour (Open-Top)
OUR 6D/5N SINGAPORE MALAYSIA DIY TRAVEL GUIDE: ITINERARY
Day 1: ARRIVAL IN SINGAPORE, RIVER WALK TOUR, CHINATOWN, GARDENS BY THE BAY, MARINA BAY SANDS
10:30 am – Check in: Hostel/Hotel, Dinner/Lunch/Snack, Rest
02:00 pm – Singapore River Walking Tour (Sightseeing: Fullerton, Merlion Park, Esplanade, Makansutra, etc)
03:30 pm – Gardens by the Bay, Chinatown Heritage Walk, Dinner
07:00 pm – Marina Bay Sands, Explore SG Nightlife, Back To Room
 Day 2: KAMPONG GLAM, SENTOSA ISLAND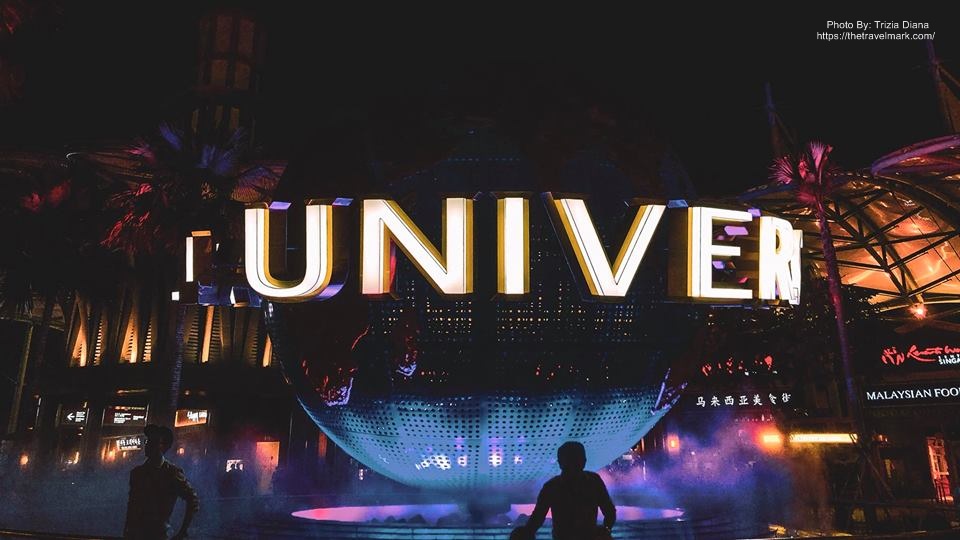 08:00 am – Breakfast / Kampong Glam Walk
10:00 am – Universal Studios Singapore
05:00 pm – Explore rest of Sentosa, Dinner, Explore SG Kallang Nightlife, Back To Hostel
Day 3: ORCHARD ROAD, ST. ANDREWS CATHERDRAL, BUGIS, TO KL
08:00 AM – Breakfast / Orchard Road (Shopping),
12:00 PM – St. Andrews Cathedral, Bugis, Little India
03:00 pm – Dinner, Back to Hotel Check out, Then Explore nearby attractions in Terminal
09:00 pm – Golden Mille Complex Terminal to KL (Berjaya Time Square – Drop off)
Day 4: KUALA LUMPUR, PETRONAS TOWER, BATU CAVES, CITY CENTRE
07:00 am – ETA to KL (Berjaya Time Square), Head to Hotel leave our baggage, Breakfast, Batu Cave, City Centre, Explore City, Lunch
03:00 pm – ET to check in, Rest, Explore Hotel Amenities, Central Park
07:00 pm – Dinner, Kuala Lumpur at Night, Petronas Tower, Back To Hotel, Rest
Day 5: Back To Singapore, Legoland Malaysia
07:00 am – Breakfast, Enjoy Hotel Amenties, Pack things ready to back to SG (Optional: Pasalubong Centres/Mall)
9:30 am – Ready for departure from KL (Berjaya Time Square – Pick up) to Legoland Malaysia
03:30 pm – ETA in  Legoland Malaysia, Back to SG ( Golden Mile Complex – Drop off)
07:30 pm – Dinner nearby Terminal, Back to Hotel (Late Check-In), Rest
Last Day Singapore 
07:00 am – Breakfast, Little India Walking Tour, Pasalubong Centers/Mall, Back to Hotel
12:00 pm – Check out, Lunch before going Changi Airport, Explore nearby attractions, Pasalubong
06:00 pm – Back To Hotel/Hostel, Get Bag/Luggage, Dinner
07:00 pm – Head To Changi Airport / Flight Back to PH
Note: We booked our bus transportation from Singapore Golden Mile Complex to Kuala Lumpur (Back/Forth) online  via Easybook – The Largest Bus, Train, Car, Tour, Ferry ticket website in SE Asia.
You can book your transportation here (Just change the travel date and select your preferred Departure Time and Provider – In our case we booked via StarMart Express): Singapore To Kuala Lumpur | Kuala Lumpur To Singapore | Kuala Lumpur To Legoland | Legoland to Singapore |
BUDGET: TRAVEL EXPENSES
PLANE TICKET:  ₱ 6,200
FOOD: ₱ 3,000
ACCOMMODATION SG/KL: ₱3,500
TRANSPORTATION: STP CARD & BUS TO KL (B/F): ₱3,500
CITY ACTIVITIES: ₱3,000
SOUVENIR: ₱2,500
TOTAL: ₱21,700
     Traveling to Singapore-Malaysia doesn't have to mean you'll be spending your entire year savings. You can stick to your budget without missing the fun in the country. Just watch out for promo tickets and seat sales by various low-cost airline company in your country, book your Kuala Lumpur, Malaysia room in bukit jalil apartments and Singapore accommodation online with free breakfast and other complimentary stuff as well as your city activities. And most importantly, planning ahead and have a detailed itinerary for your entire trip could totally make a difference to your expenses.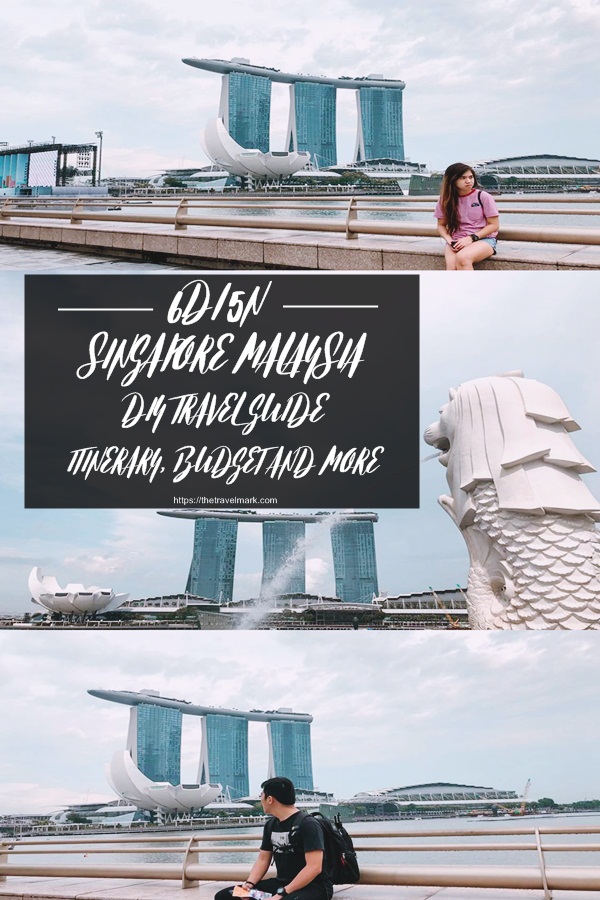 Note: We cannot guarantee the information written here is correct and accurate all the time. If you want to add information or you spot something that needs correcting, please let us know in the comment section below.
– Last Update: July 17, 2019 –
Comments