BACOLOD GUIMARAS ILOILO BORACAY DIY TRAVEL GUIDE – For the most foreign tourists who have visited the Philippines, Panay comprising of four provinces In Western Visayas is the island they first tick-off on their bucket list. With its world-famous white sand beach of Boracay and Ati-Atihan Festival in Aklan province, picture-perfect Gigantes Island and Garin Farm in Iloilo, Capiz province known as the "Seafood Capital of the Philippines", home of coral-stone Santa Monica Church and largest Catholic Church bell in Asia and Antique province on the west coast with its crystal clear spring and beautiful mountains. All of these provinces' attractions can be visited including the nearby island provinces of Guimaras, Negros Occidental, and Oriental on excellent planning and if you have the luxury of time and budget.
Must Read: SIARGAO ISLAND DIY TRAVEL GUIDE: Itinerary + How To Get There etc.
Finally, after scoring a cheap promo flight for only about ₱1600 B/F (we think that's a pretty good price) three months before our travel date, we were able to explore and experience some of the best Western Visayas tourist spots and attractions, tasted their local food, etc. So here's our Bacolod Guimaras Iloilo Boracay DIY travel guide that might help you prepare for your future travel.
Bacolod Iloilo Guimaras Boracay DIY Travel Guide: Day 1 & 2: Point of Entry – Bacolod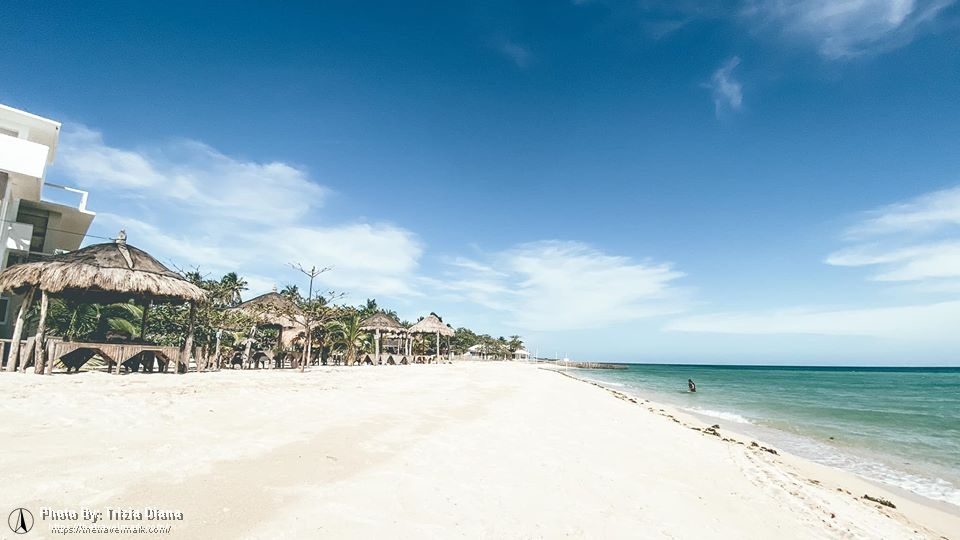 If you're traveling by sea you can use Caticlan, Iloilo, Dumaguit (Aklan), or even Bacolod ferry port as your point of entry. If you're traveling to Panay by air, there are four airports you can use as your jump-off point to get to the island. Two of them are domestic (Caticlan and Roxas) and two of them are international (Kalibo and Iloilo).
But in our case, since we wanted to visit Lakawon Island, Bantug Lake Ranch, and Campuestohan Highland Resort, we decided to fly to Bacolod and explore the city for two days before going to Panay Island.
Around 5:50 AM, we arrived at Bacolod International Airport, hired a van for ₱250/person to get us to our hotel, ate our breakfast, and started our day tour: Campuestohan Highland Resort, Bantug Lake Ranch, The Ruins, San Sebastian Cathedral, SM City Bacolod, etc. The next day, we went to Lakawon Island in Cadiz City and in the afternoon we got back to the city to catch a fast craft to Iloilo city.
Expenses: ₱4276
See our here for our detailed Bacolod itinerary, expenses, etc: 2D/1N BACOLOD DIY GUIDE ITINERARY: A Short Trip to the City of Smiles
Campuestohan Highland Resort
Bantug Lake Ranch
The Ruins
San Sebastian Cathedral
Manokan Country
Bacolod Public Plaza
Robinsons Place Bacolod
SM Bacolod City
Lakawon Island
If you want more convenient and hassle-free transportation to the city you can book your transfers via Klook below: 
Private and Shared Bacolod-Silay International Airport (BCD) Transfers for Bacolod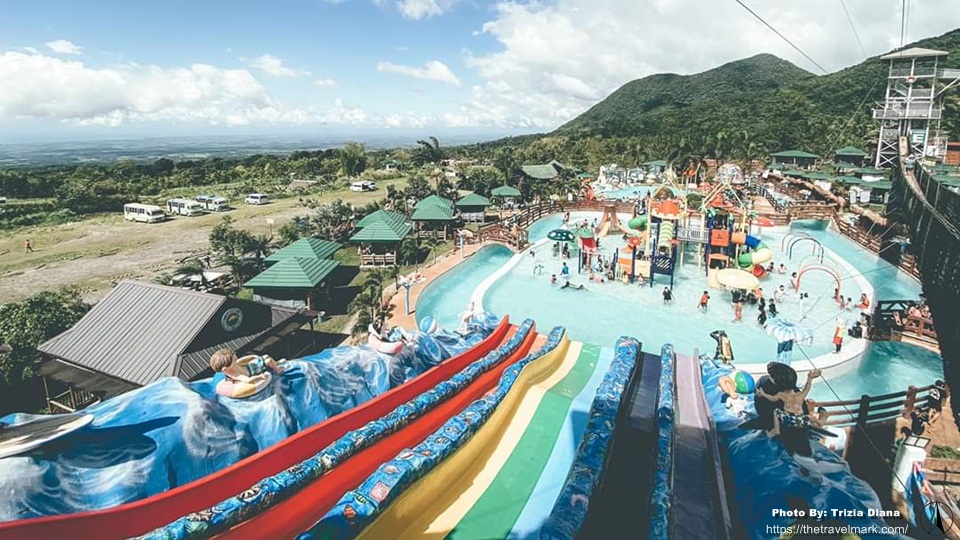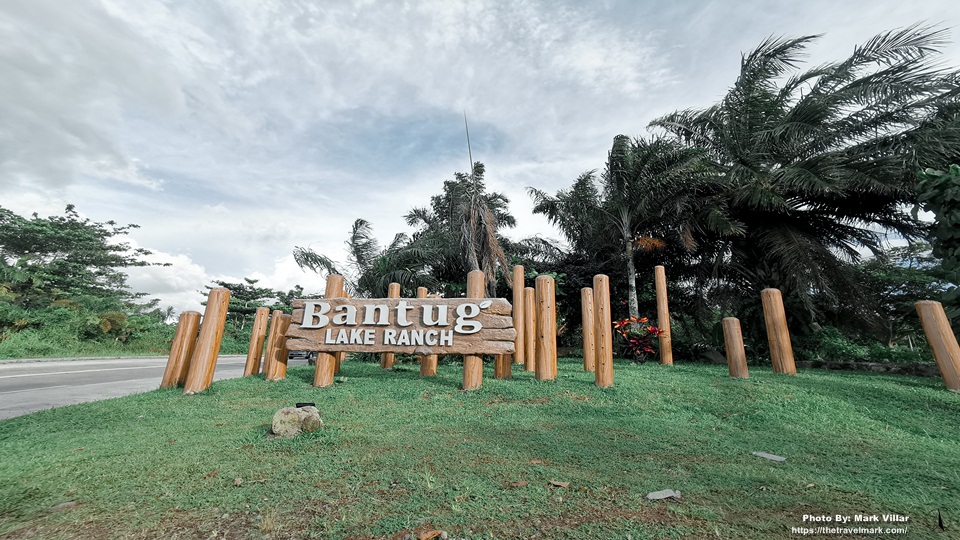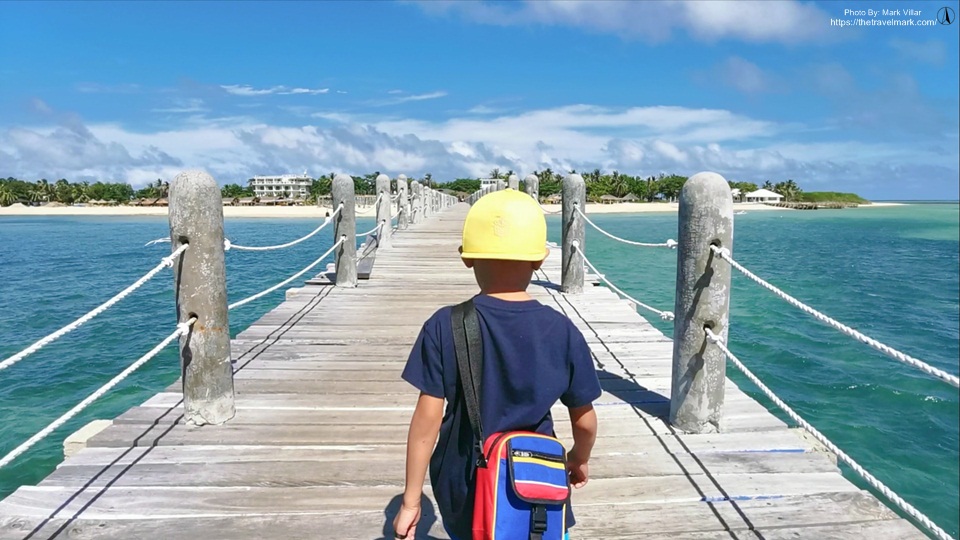 Where To Stay in Bacolod:
Since Bacolod is a highly urbanized city, there are many accommodations to stay in based on your budget. From luxury resorts to reasonable price budget hotels, hostels, homestays, inns, etc. As for us, we booked a room in RedDoorz near New Government Center for only ₱740/night.
The staff is very friendly and welcoming. They even kept our bags and belongings for a while since we arrived very early for our check-in time and so we can start our Bacolod tour. The next day, we checked out early and they agreed to leave our bag and we'll just fetch them in the afternoon since we're going to Iloilo after our Lakawon trip. You can check the link above for your preferred Bacolod accommodation that fits your budget.
Day 3: Guimaras Day Tour + Iloilo City
Around 5:50 AM we woke up early, ate breakfast, and prepared ourselves for our Guimaras day tour. We checked out early and they agreed to leave our bag and we'll just fetch them in the afternoon. We rode a tricycle to Iloilo Ferry Terminal-Parola to catch a ferry boat to Jordan Port, Guimaras. In the afternoon after our tour, we went straight to our hotel to pick up our bags then to Tagbak Terminal to catch a bus to Balasan.
Expenses: ₱ 2021
See our here for our detailed itinerary, expenses, etc.: GUIMARAS DAY TOUR ITINERARY: Getting Around The Province By Tricycle)
Iloilo City
Jordan Signage
Smallest Plaza
Windmill Farm
Holy Family Hill
Manmade Forest
Mango Plantation
The Pitstop Restaurant
Guimaras Signage
Trappist Monastery and Gift Shop
Guisi Lighthouse and Beach
Overlooking Lawi View Deck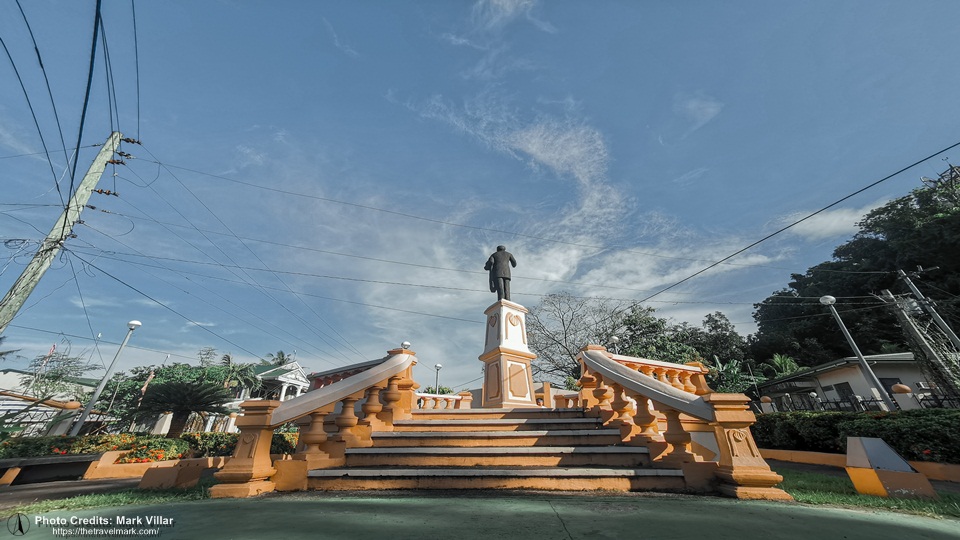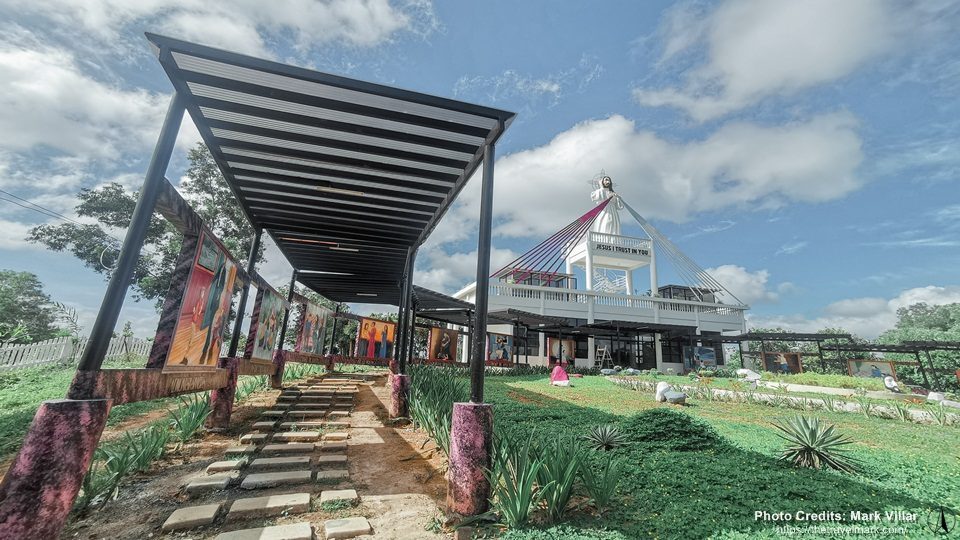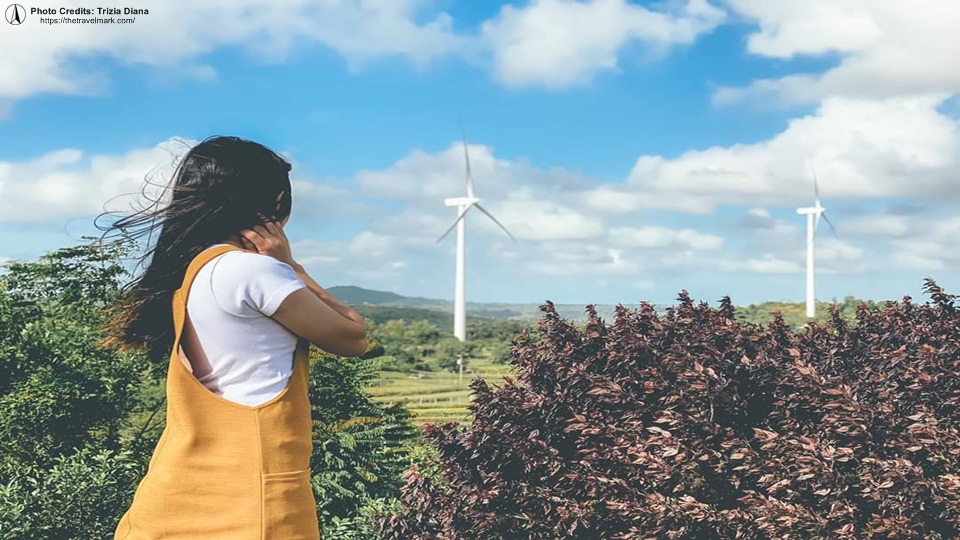 Where To Stay in Guimaras:
We plan to have a day tour in Guimaras then back to the city in the afternoon to head to Balasan for our Gigantes Island trip in Carles the next day. So we booked a room in Circle Inn Iloilo which is about a 10-minute ride to Iloilo Ferry Terminal – Parola and around a 30-minute taxi/jeepney ride to Tagbak Bus Terminal.
If you're planning to explore Guimaras for a day just like us, Jordan the capital of the province is most probably the pick-up point of your tour, so we suggest booking your accommodation nearby Iloilo port so it would be convenient and lesser time to commute. You can check the link above for your Guimaras/Iloilo accommodation that fits your budget.
Day 4: Gigantes Island, Carles Iloilo + Balasan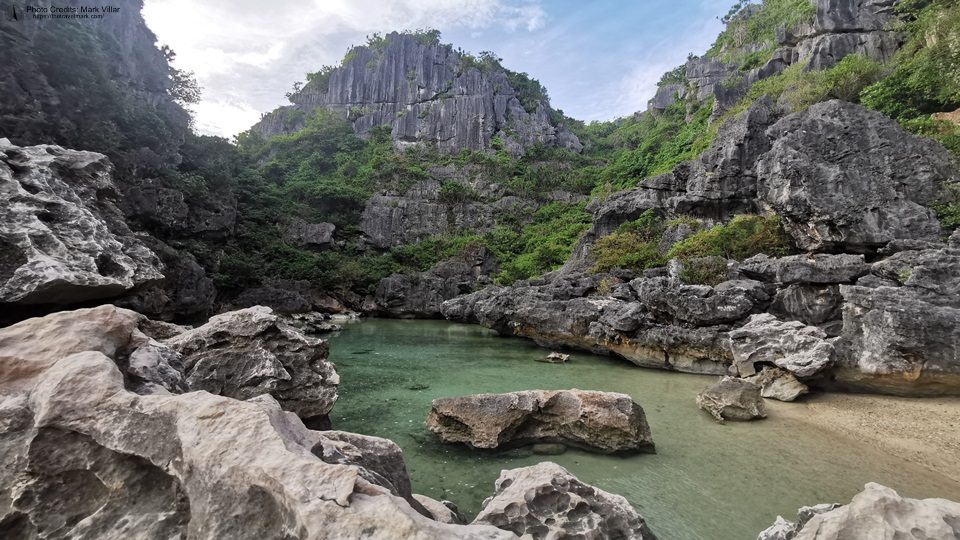 The call time and assembly area for our Gigantes tour is 09:00 AM at Bancal Port. So traveling to Bancal Port in Carles from where we spent our night in Balasan is not a problem. We left the hotel at 7:40 AM and managed to arrive in Bancal Port around 08:20 AM, then we headed straight to the tourism office for registration of our tour.
Around 9:30 AM, the adventure begins as we started the island hopping tour. The unspoiled islands, the clear waters, white sand beach, picture-perfect scenery, and the food is the highlight of our Gigantes tour
Expenses: ₱ 1649
See our here for our detailed itinerary, expenses, etc.: GIGANTES ISLANDS ITINERARY & EXPENSES: Discovering the Beauty of the Islands
Balasan
Pulopandan Island
Cabugao Gamay Island
Bantigue Sandbar
Gigantes Sur (South Gigantes)
Antonia Island
Tangke Lagoon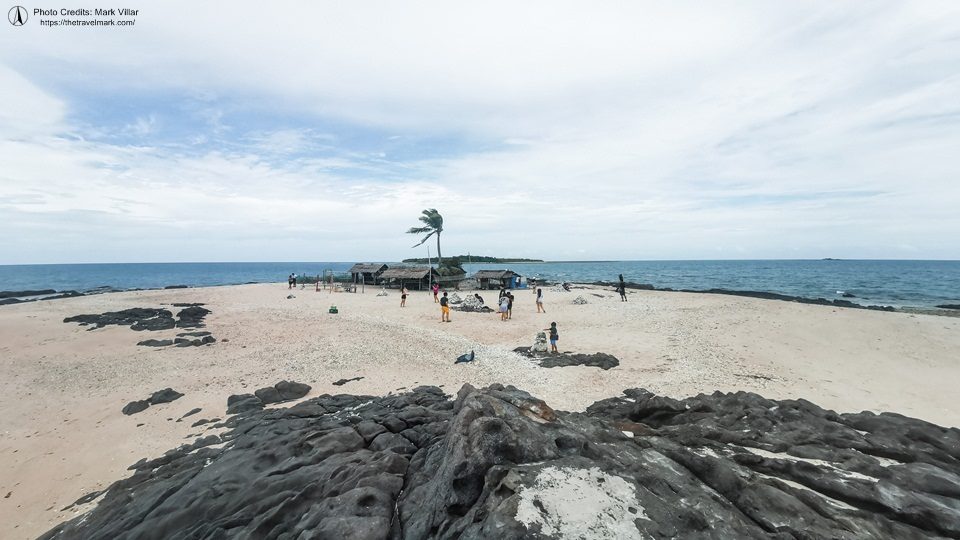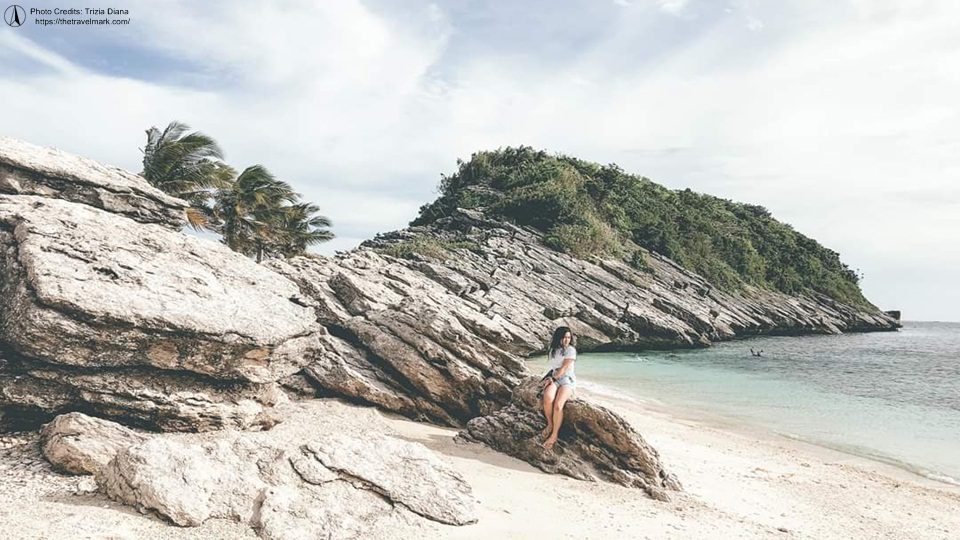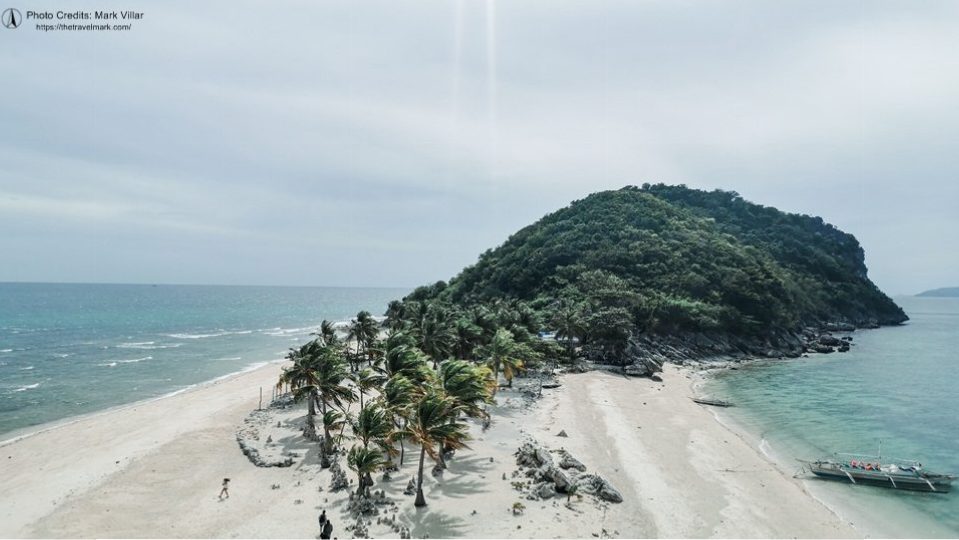 Where To Stay in Gigantes Island:
M2R Apartelle –  Freya's Room
If you'll be coming from Ilo-Ilo City, Roxas, Kalibo, or Caticlan, traveling to the municipality of Carles – where Gigantes island is situated can usually take more than an hour of bus or van ride. That's why staying overnight near the boat pick-up (Bancal port) for your Gigantes tour is recommended.
In our case, we stayed in M2R Apartelle in Balasan for only ₱844 with free breakfast, about 30-40 minutes tricycle ride to Bancal Port. You can check the link above for nearby Gigantes Island accommodation that fits your budget.
Day 5 &6: Boracay Island / Exit Point – Caticlan Airport
Originally on the flight ticket that we've booked, we're supposed to fly from Cebu to Bacolod then fly back to Cebu from Bacolod. It was already late when we realized that it be would tiring and time-consuming if we'll be coming from any parts of Panay island to get to Bacolod Airport.
So why not use that time to explore Panay Island instead? Luckily the next day, we found a promo ticket from Caticlan to Cebu, and from that, our itinerary has been drafted.
We spent our last two days and one night in Boracay to relax, and appreciate the beauty of the island. We enjoy the beach, rented a paddleboard and jetski, watched the sunrise/sunset, explored the island at night, bought souvenirs, rewarding ourselves for the past days of non-stop traveling with a sumptuous dinner and that wraps up our Panay Island escapade.
Expenses: ₱5,981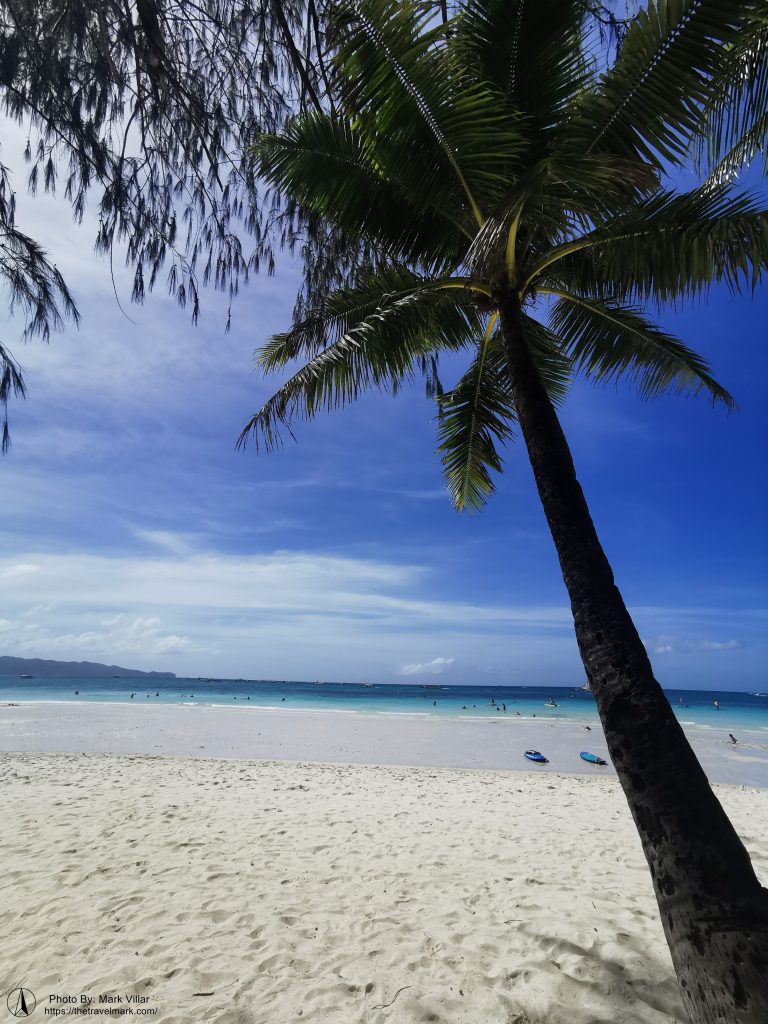 OUR 6D/5N BACOLOD ILOILO GUIMARAS BORACAY DIY TRAVEL GUIDE: ITINERARY (MODIFIED)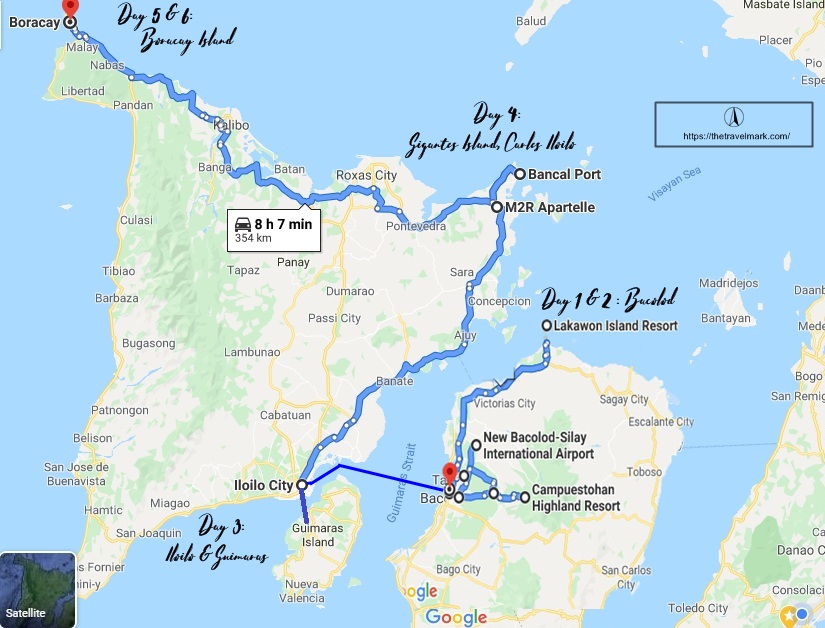 Day 1: ARRIVAL IN BACOLOD, CAMPUESTOHAN HIGHLAND RESORT, BANTUG LAKE RANCH, THE RUINS, SAN SEBASTIAN CATHEDRAL, BACOLOD PUBLIC PLAZA, MANOKAN COUNTRY, SM CITY BACOLOD, etc.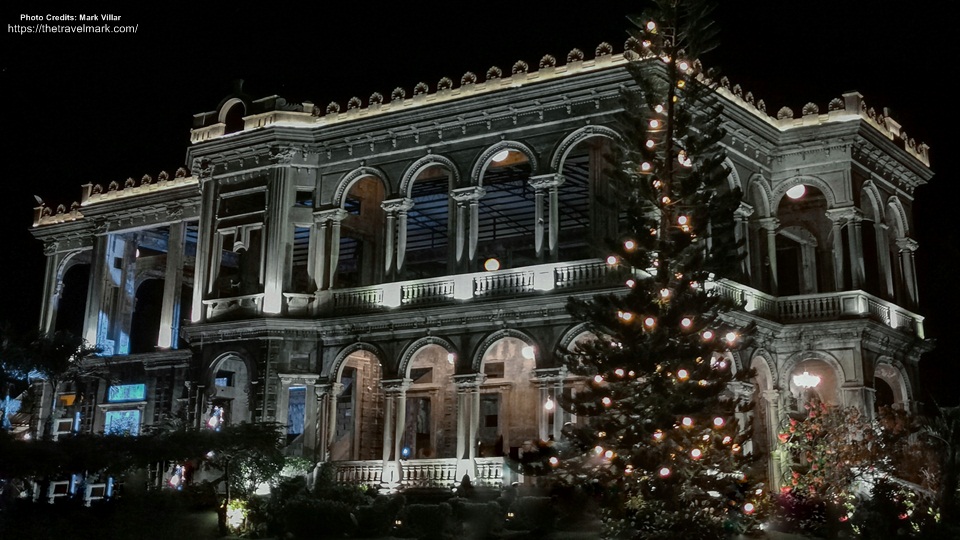 05:50 am – ETA in Bacolod International Airport, Arrive in Hostel/Hotel, Breakfast, Rest
08:00 am – Campuestohan Highland Resort, Lunch, Bantug Lake Ranch,
03:30 pm – Back to Hotel, Check-in, Rest, Snacks, Change Clothes
04:50 pm – The Ruins, Robinsons Place, San Sebastian Cathedral, Bacolod Public Plaza, Manokan Country, Dinner, SM City Bacolod
09:00 pm – Back to the room, Rest
Day 2: LAKAWON ISLAND, THEN TO ILOILO CITY
05:40 am – Breakfast, Early Checkout, Ceres Bus Terminal,  Lakawon Island, Lunch
01:30 pm – Back to Bacolod City, Make sure to catch last trip fast craft to Iloilo City, Dinner
06:30 pm – Check-in Hotel, Rest
Day 3: GUIMARAS LAND TOUR VIA TRICYCLE: ARRIVAL/PICK-UP IN JORDAN PORT, JORDAN SIGNAGE, SMALLEST PLAZA, WINDMILL, HOLY FAMILY, MANMADE FOREST, LUNCH, TRAPPIST MONASTERY, GUIZI BEACH, ETC., TAGBAK TERMINAL, BALASAN
06:00 am – Breakfast, Early Checkout, Iloilo Ferry Terminal – Parola, Guimaras Tour, Lunch
03:40 pm – Back to Iloilo City, Tagbak Terminal, Snacks, Make sure to catch bus/van trip to Balasan
08:00 pm – Check-in Hotel in Balasan, Dinner, Rest
Day 4: BALASAN, BANCAL PORT, GIGANTES ISLAND TOUR: PULO PANDAN ISLAND, CABUGAO GAMAY ISLAND, BANTIGUE SANDBAR, GIGANTES SUR (SOUTH GIGANTES), ANTONIA ISLAND, TANGKE LAGOON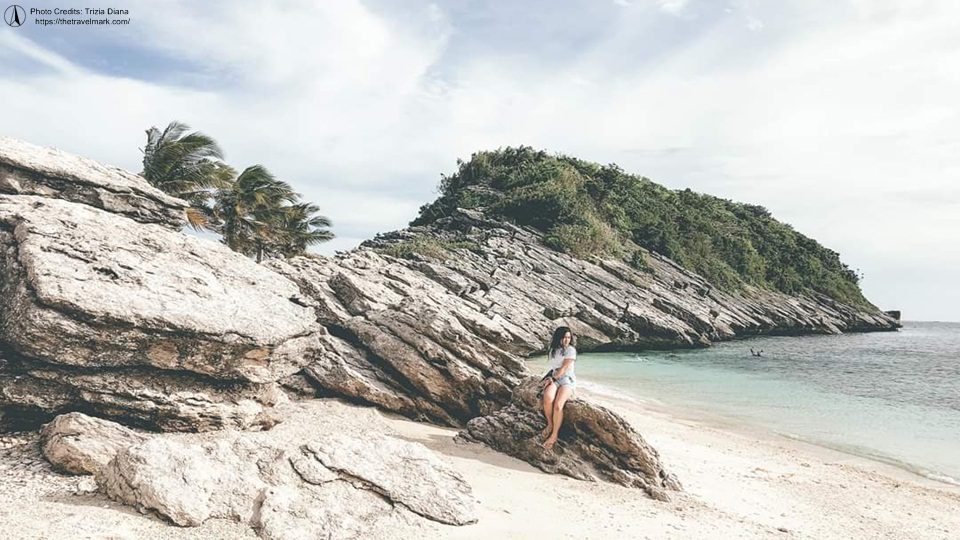 06:20 am – Breakfast, Bancal Port, Gigantes Island tour, Lunch
04:20 pm – ETA in Bancal Port, Back to Hotel, Dinner/Snack, Rest
Day 5: BALASAN, ROXAS, KALIBO, CATICLAN, BORACAY ISLAND
07:00 am – Breakfast, Balasan, Checkout Hotel, Roxas, Kalibo, Caticlan
12:30 pm – Lunch, Arrival in Boracay Island, Check-in Hotel, Rest
05:o0 pm – Swimming, Sunset,  Explore the island, Dinner, Rest
Day 6: LAST DAY IN BORACAY ISLAND, CATICLAN AIRPORT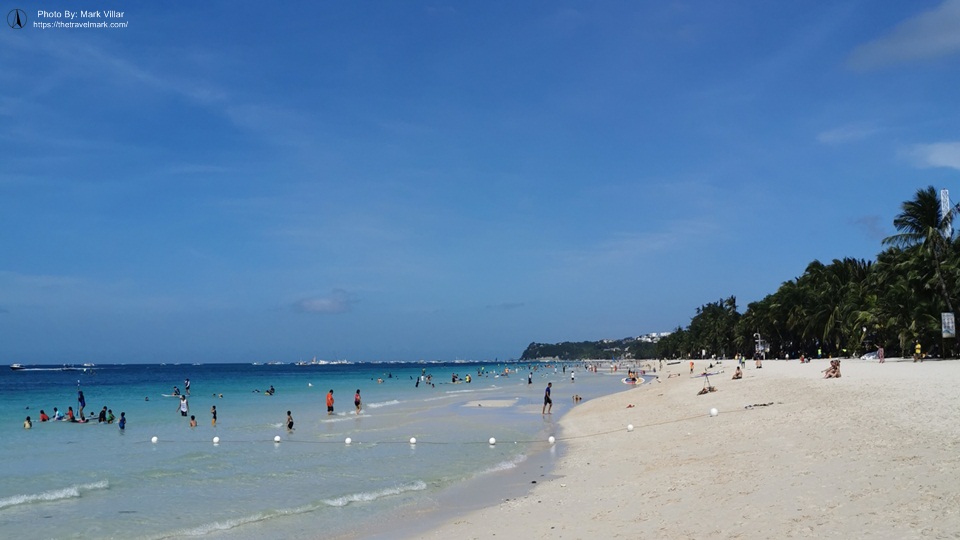 05:30 am – Sunrise in Boracay, Breakfast, Swimming, Water Activities
09:00 am – Bought souvenirs, pack our bags then lunch, Checkout hotel
01:00 pm – Depart to Caticlan Airport, Flight back to Cebu
BUDGET: TRAVEL EXPENSES
PLANE TICKET: ₱ 1,613 B/F
ACCOMMODATION: ₱ 2,665
FOOD: ₱ 1,800
CITY ACTIVITIES & TOURS: ₱ 3,709
TRANSPORTATION: ₱ 3,340
SOUVENIR: ₱ 800
TOTAL: ₱ 13,927/person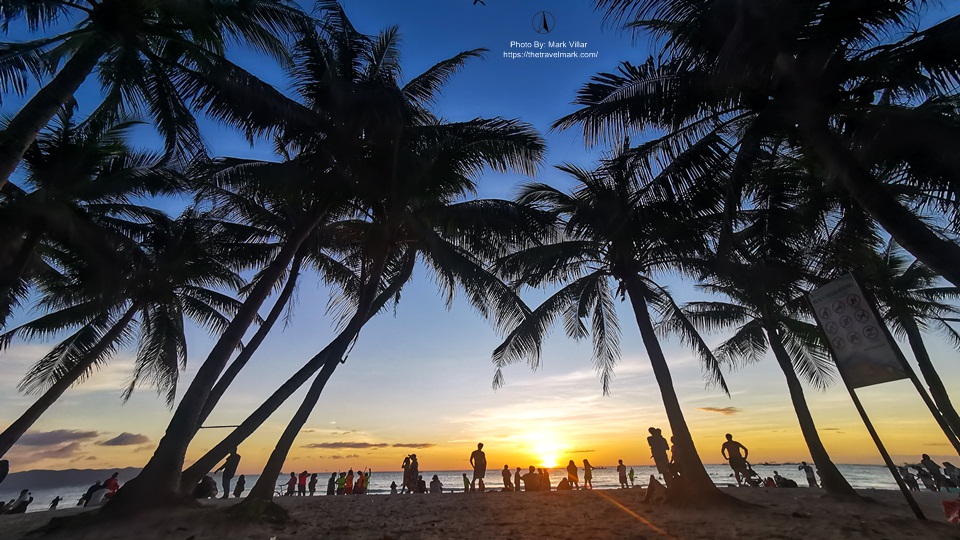 Even though some things didn't go as planned, for example, we didn't catch the last trip fast craft from Bacolod to Iloilo City, the last trip from Roxas to Kalibo, and the last trip from Kalibo to Caticlan. We still managed to arrive in Iloilo City via Roro ferry to Dumangas and we arrived at our hotel around 11:00 PM in Caticlan after our Gigantes Island day tour. That may sound impossible and risky but here's what happened. 
Our Gigantes island hopping ended later than in our itinerary but we decided to take the risk to Roxas city to catch the last trip to Kalibo. When we arrive via van in Roxas Integrated Transport Terminal, the last trip to Kalibo already left but there is still a group of tricycle drivers in the terminal that will take you to the city.
We rented a tricycle to get us to a street where the bus from Iloilo to Kalibo passed by for ₱500. When we arrived at Kalibo Bus Terminal via bus, luckily a passenger van from Iloilo to Caticlan was still traveling at that time. (Definitely not recommended if you're going to Caticlan/Kalibo after your Gigantes Island tour in Carles, Iloilo unless you have a private vehicle)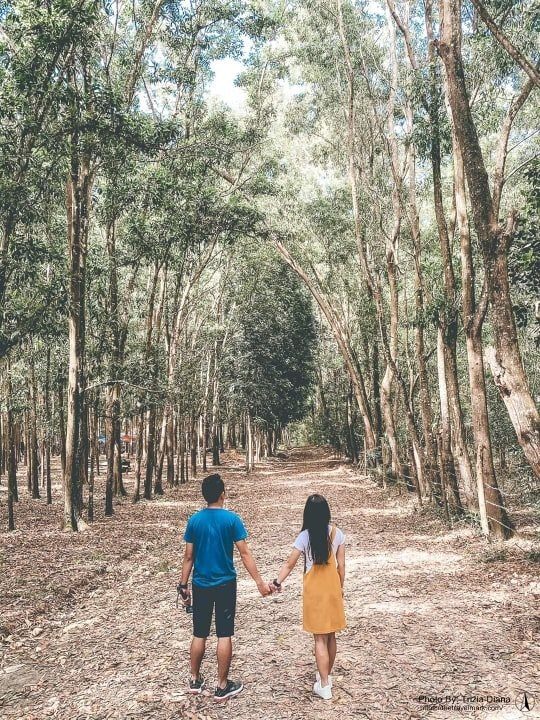 Overall the experience is tiring and challenging. Carrying our bags traveling from one place to another, waking up early, making sure we don't miss the first trip/last trip to our next destination. But we would say the whole trip is fantastic and fulfilling. The open road, new people we've met, the wind in our hair, the water splash in our faces, and the experience of great places we've explored making this travel with my partner even more memorable.
Note: Traveling to Bacolod-Iloilo-Guimaras-Boracay and other provinces in Panay doesn't have to mean you'll be spending as much as we did. You can stick to your budget without missing the fun. Just watch out for promo tickets and seat sales by various low-cost airline, booking in advance your you accommodation online as well city activities. And most importantly, planning ahead and have a detailed itinerary for your entire trip could totally make a difference to your expenses. #ResponsibleTourism #LeaveOnlyFootprints
Must Read: ISLAND HOPPING MACTAN CEBU 2020: Gilutongan, Caohagan, Sulpa, Olango, Nalusuan and Pandanon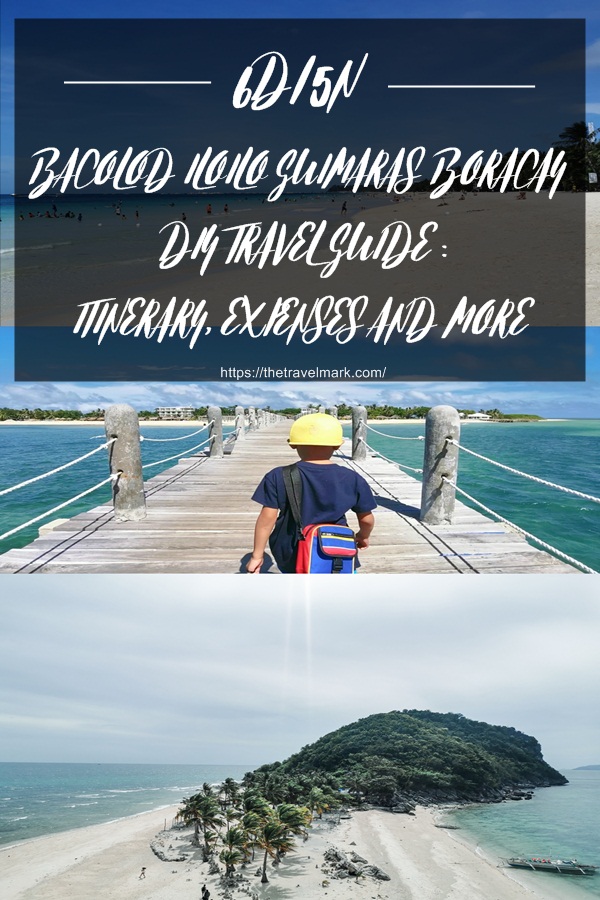 Here's a short video summary of our  Bacolod experience: #ResponsibleTourism #LeaveOnlyFootprints
 Note: We cannot guarantee the information written here is correct and accurate all the time. If you want to add information or you spot something that needs correcting, please let us know in the comment section below.
– Last Update: April 20, 2020 –
Comments