Siargao Island DIY Travel Guide – Starting the year by doing things you've always wanted to do is one of the best feelings. It's something fulfilling and optimistic that you're doing the things you love at the beginning of the year. It's something rewarding that for the past years of working for yourself, you were able to give yourself a prize. And it's something you can be proud of to yourself as these things could be the best times of your life.
And that's what we did last January, we started the year right by following our traveler's heart, which leads us to the surfing capital of the country no other than Siargao. 
See complete details below for our experience, quick tips, Siargao Island DIY travel guide, and other information in case you're planning to visit the island.
If you're planning to experience Siargao's island hopping, we suggest you book in advance via KLOOK and check the link below for rates and inclusion, itinerary, and date availability for your trip.
BOOK VIA KLOOK: Siargao Tri-Island Hopping: Naked Island, Daku Island and Guyam Island | Sugba Lagoon, Kawhagan Island, and Pamomoan Island Private Tour in Siargao
What is the history of Siargao Island?
Skippy our dog companion in Boardwalk General | Photo Credits: @triziadiana
Situated about 800 kilometers south-eastern part of the country's capital – Manila, northeast of Surigao Del Norte facing the Pacific Ocean. Before Siargao was featured in a local movie and became a popular tourist attraction in the Philippines, the island was way back an under-the-radar travel destination. When two foreigners in 1980 named Steve Jones and Tony Arruza said to came to the island first in a search for what they called the 
"perfect wave."
At that time, Siargao had not made a spot on the world map yet, until a photographer named John Callahan took photos and featured the island in a magazine, which spread like a wildfire all over the world. From then, Siargao earned a spot as a surfing and adventure enthusiast all over the world.
To get to know more about the island check out here: Siargao – Source by Wikipedia.
How do I get to Siargao?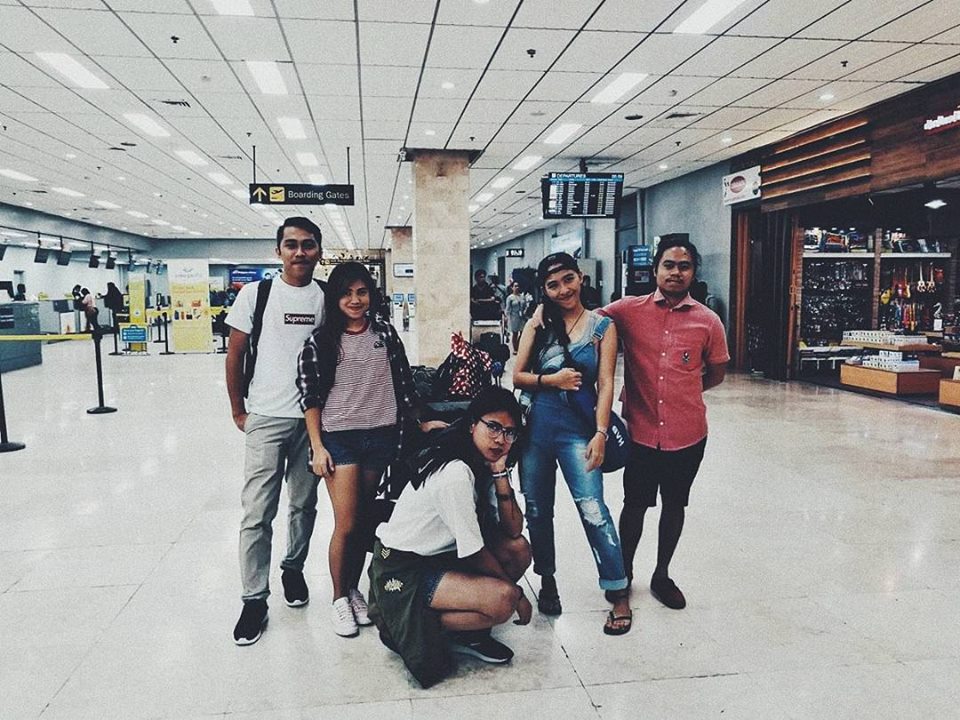 Getting to Siargao Island has become easier these past few years, as more commercial airlines (Cebu Pacific, Philippine Airlines, and SkyJet Airlines) are offering cheap flights and promo deals to Siargao. In our case, we book a direct flight from Cebu to Siargao (Sayak Airport) 6 months before our travel date. Travel time from Cebu to Siargao by plane is about 45 minutes.
Note: Vans and Tricycles are just available outside the airport in case your hotel doesn't provide a free shuttle service to get you to their place. Tricycle fare is 150-200 pesos while van fare starts from 300-350 pesos. 
Here are other ways to get to Siargao Island either by air/sea.
* Fly direct to Siargao: via Cebu/Manila
* Fly to Surigao city then take a ferry to Siargao
* Ferry from Surigao City to Siargao
* Fly to Butuan then Bus to Surigao City then Ferry to Siargao
* Ferry from Manila/Cebu to Surigao City then Ferry to Siargao
*Fly to Davao/Cagayan then land trip to Butuan and Surigao
Must Read: Exploring Cebu's Little Amsterdam: Sirao Flower Garden
Where should I stay in Siargao?
Outdoor overlooking pool in Villa Maya Siargao | More photos in their official FB Page: MayaVillaGolfSiargaoCloud9
For cheap and reasonable price hotels book here via:
From cheap bunk beds, single fan rooms to luxury and high-end resorts. There will surely be good accommodation for you and your group that fits your budget.
Check out Villa Maya in Brgy, Catangnan, General Luna where we had an awesome 4 day and 3 nights stay. Spacious private room, overlooking outdoor pool, absolutely fantastic breakfast (their Bacon FTW!) and their friendly staffs are just a few things you should look forward to in staying here. 
What is the most famous food in Siargao?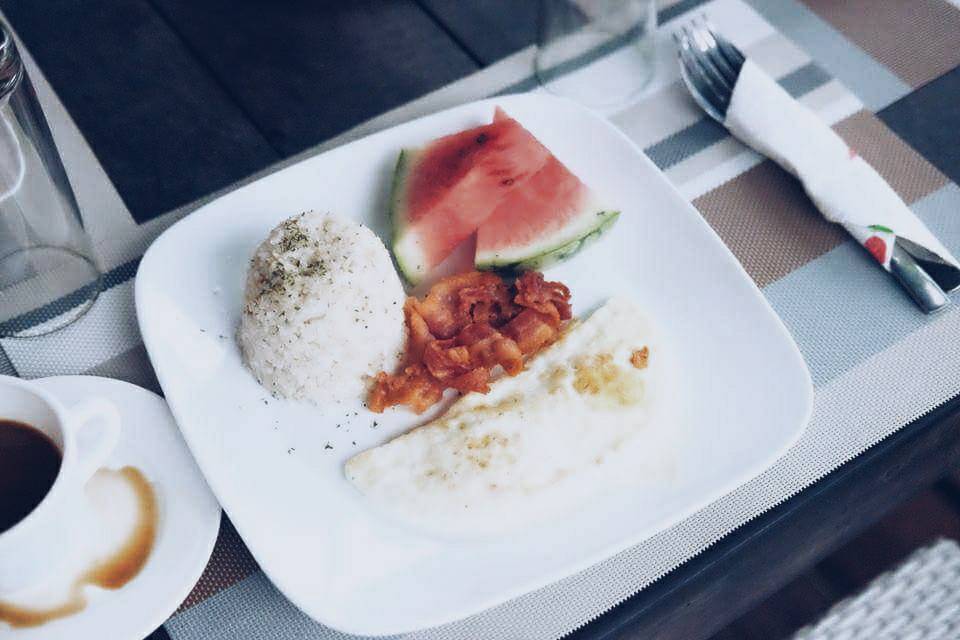 Our Complimentary Free Breakfast in Villa Maya Siargao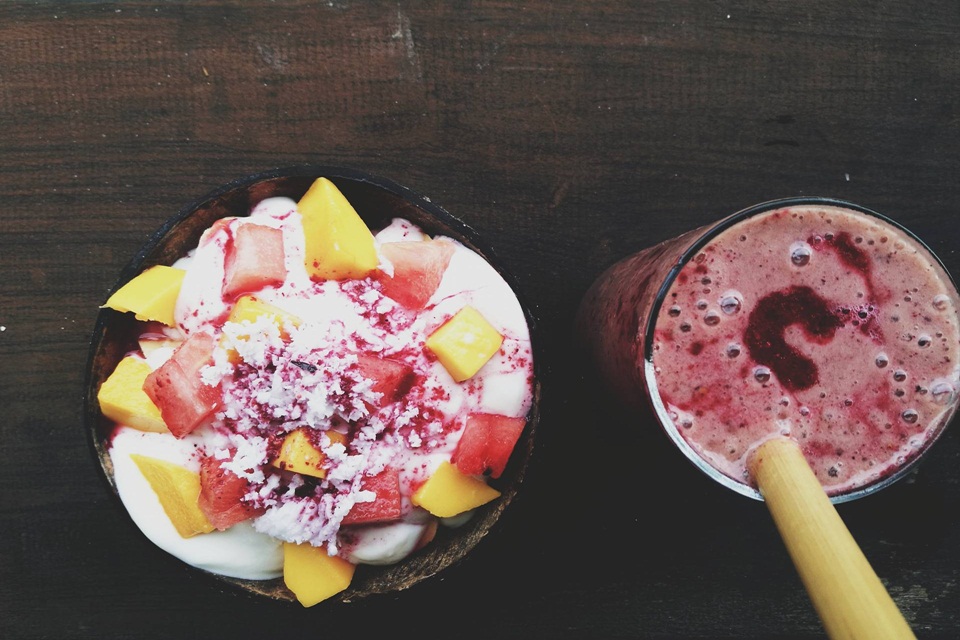 Nutritious Power Bowls and Smoothies in Shaka – Siargao Island DIY Travel Guide
From affordable cafeteria and local food specialties, healthy food choices and world-class international cuisines, this island in the Southern part of the Philippines might be small in size but it is home to the best restaurants and surely you will never run out of dining options here in Siargao.
So here are our picks of the best restaurants you and your friends may consider feasting on.
* Kermit Surf Resort
* Buddha's  Feast Resort
* Villa Maya
* Arka  Hayahay
* Kawayan Siargao
* Harana
* Patrick's on Beach
* Mama's Grill
* Shaka
* Aventino's Pizza, Pasta, and Vino
* Kitya's Place and Cashey's Place
* Cafe' Loca
*  The Pleasure Point Cafe' and so much more.
Note: Unlike Boracay and other popular island travel destinations in the country, there are no popular fast-food chains and coffee shops like Jollibee, McDonald's, KFC, or Starbucks in Siargao. But if you're want to cook and prepare your food, there's just General Luna Public Market and Sari-Sari or a small convenience store on the island you can buy groceries. 
What is there to do in Siargao besides surfing?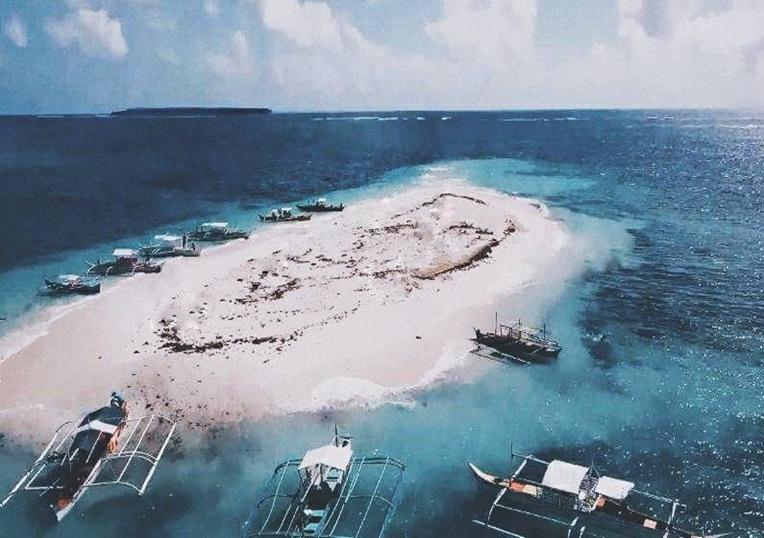 Naked Island Siargao Island } Photo Credits: Drone shots by @aljaydiana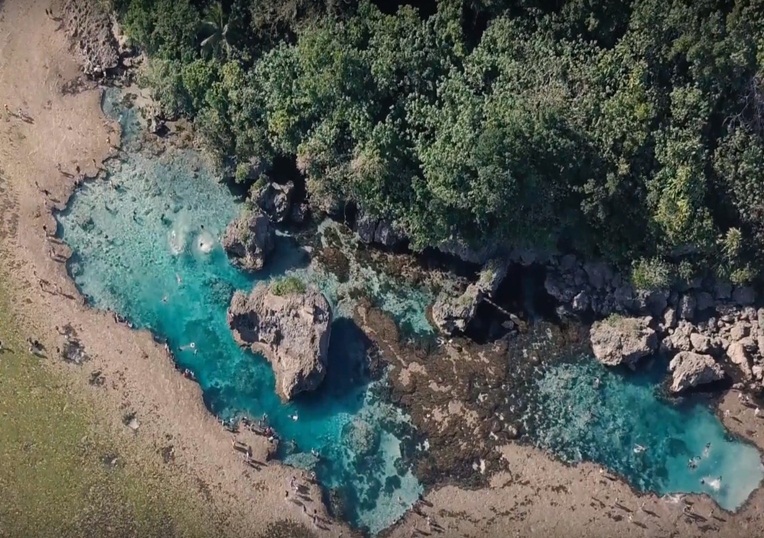 Magpupungko Tidal Pool Pilar Siargao Island | Drone shots by @aljaydiana
Though surfing and its majestic cloud 9 waves are one thing to anticipate, Siargao has more than what most people think on the island. There are a lot of activities and attractions you could do here once you step foot in the surfing capital of the Philippines. So here are fun things we suggest you should experience on Siargao.
* Magpupungko Tidal Pool  – Entrance Fee 50 Pesos/Per Head
* Taktak Falls
* Tayangban Cave Pool
* Union Beach/  Corregidor Beach / Doot Beach / Alegria Beach
* Santa Monica Pier
* General Luna Cloud 9 Boardwalk – Entrance Fee 50 Pesos/Per Head
* Island Hopping (Guyam Island, Daku Island, Naked Island)
* Bucas Grande Island Tour
* Sugba Lagoon /  Del Carmen Mangroves / Picture perfect Palm trees
* Motorbike / Bicycle / Swimming / Surfing / Cliff jumping / Snorkeling & Diving / Paddle Board / Kayak
* Resort Hopping / Nightlife and Chill Session / Stargazing
* Henna Tattoo / Souvenir shops
* Make friends and hang out with locals / Beach Cleanups / Food trip / Boodle fights
Siargao Island DIY Travel Guide: Other Friendly Tips and Important Information
With Ms. Venus of Villa Maya Brgy Catangnan, General Luna Siargao
* Local people in Siargao are very hospitable and friendly. So whenever you go motorbiking going to General Luna boardwalk, Magpupungko or anywhere and you're lost, just politely ask random people and they'll surely give you directions and other information that you need.
* Do not bring jewelry, other expensive accessories when you go surfing or swimming, and always be mindful with your belongings. Better safe than sorry.
* ATMs and remittance centers are available on the island in case you're running out of cash.
* Though there's not much establishment in Siargao, the signal on the island is pretty decent. So you can just upload your #SiargaoTravelGoals photos/videos to your various social media sites.
* To get around Siargao, renting a motorbike for (350/day) is the cheapest way you can explore and tour the whole island. But if you don't know how to drive a bike/motorbike, tricycles and habal-habal (motorcycle taxis) can help you get around the island.
* Though Siargao is a year-round travel destination, still the best time to visit Siargao is in summer and in September to December (typhoon season) where joyous fiestas are happening and waves are much bigger on the island. Also, the best time to visit Siargao is when the island hosts a surfing competition.
Siargao Island DIY travel guide 2022: Our 4 Days 3 Nights Itinerary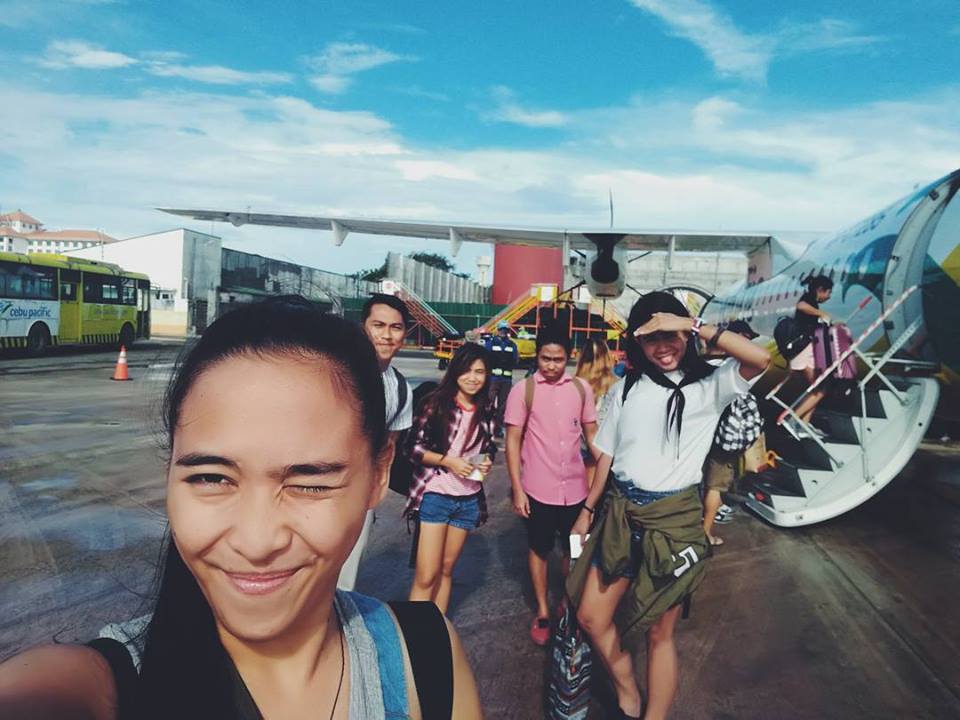 Off To Island Life In Siargao, Philippines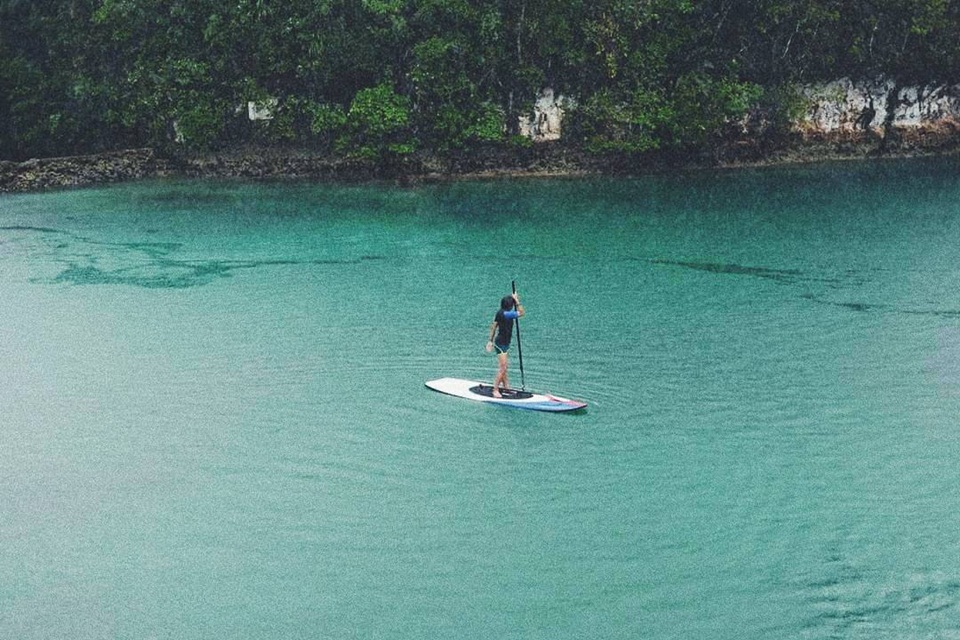 Paddle Boarding in Sugba Lagoon | @iamjonastark
Day 1: Start of Island Life
06:00 AM – Assembly Time
6:00-6:30 AM – Estimated time travel to Mactan International Airport
6:30-8:30 AM – Breakfast, Snacks/Rest, Check-In, Chill, Ready for Departure
8:30-9:20 AM – Arrived at Sayak Airport (Siargao), Straight To Hotel (Villa Maya)
9:20-5:00 AM – Change Clothes, Ready for Sugba Lagoon Tour
05:00-6:30 PM – Back to Hotel (/Rest/Swimming Pool/Head to Cloud 9 Surfing Area/Surfing
time for Sunset
6:30-9:00 PM – Dinner (Kermit Restaurant), Experience Siargao nightlife (Free Time)
9:00 Onward – Back to Hotel/Chill/Movie/Night Swimming/Sleep
Day 2: Island Hopping
06:00-7:00 AM – Wake up Time/Breakfast/Prepare for Island Hopping
07:00-02:00 PM – Visit various islands (Pansukian, Guyam, Naked, Daku Island, etc.) / Lunch
2:00-6:00 PM – Back To Hotel, Rest a bit, Surfing (sunset) Optional/Standby Sea Shore, Siargao Food Trip
Market/Convenient Store)
8:00 PM Onward – Back to Hotel/Dinner, Swimming, Movie Marathon, Sleep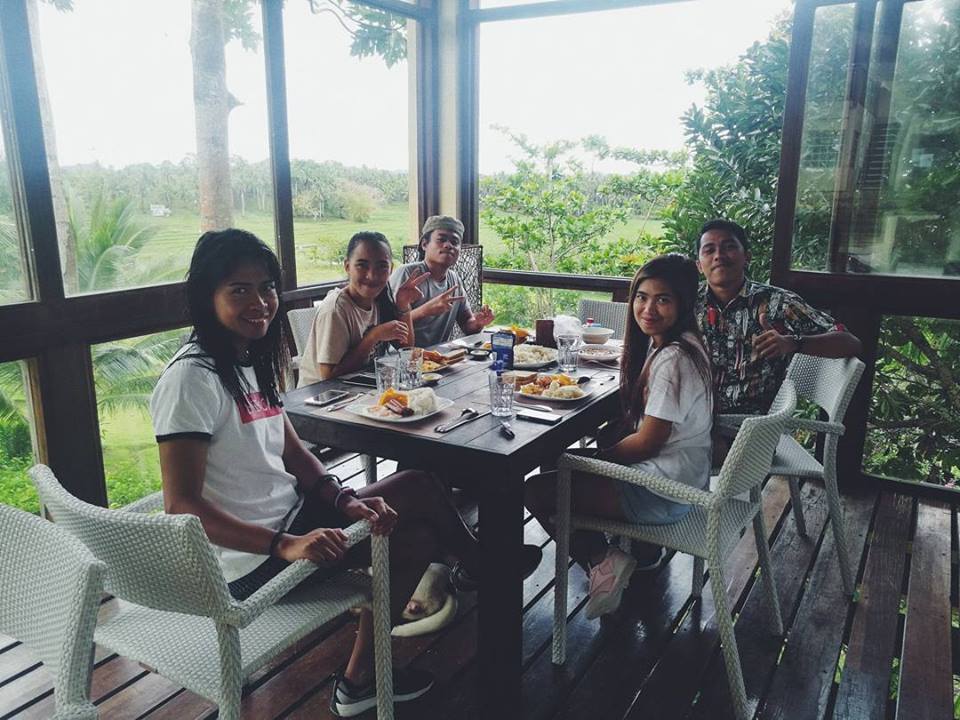 Had a great breakfast in Villa Maya Siargao before going back to Cebu
Day 3: Magpupungko Tidal Pool Tour / Food Trip  
05:00 AM-05:30 AM – Wake up Time, Snacks/Breakfast, Change Clothes
05:30 AM:05:30 PM – Head to Pilar (Magpupungko Tidal Pool) or Bucas Grande Tour,  Lunch, Chill, Head Back To General Luna, Surfing
05:00 PM-6:00 PM – Back to Hotel, Head to Cloud 9 Surfing Area, Explore Island of Siargao/Snacks
6:00 PM Onward – Look restaurant for dinner or buy food at market/convenience store, rest
Day 4: Back to Reality
08:00-11:30 AM – Villa Maya Swimming Pool / Breakfast, Buy Souvenirs, Prepare Things, Hotel Check-out, Off to Siargao Airport, Back To Reality
Note: Due to bad weather some of the activities/plans we've set are canceled.  
Here's a Video Summary of our Whole Siargao Island Travel Experience: #ResponsibleTourism #LeaveOnlyFootprints
     Note: We cannot guarantee the information written here is correct and accurate all the time. If you want to add information or you spot something that needs correcting, please let us know in the comment section below.
– Last Update: July 25, 2018 –
Comments